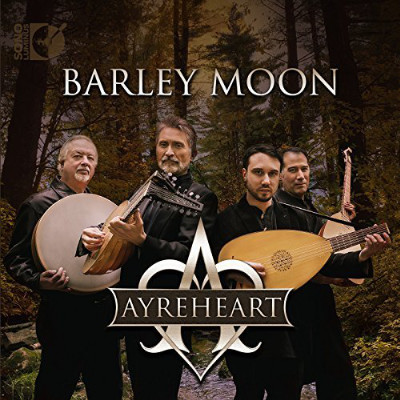 Barley Moon
Barley Moon is comprised of Renaissance music and old traditional folk songs, showcasing the surprising parallels between high art music and folk music. It is released on the award-winning Sono Luminus record label as a combo CD + Blu-Ray Audio.
In the late '60s, many things were born. The British Folk Rock movement, as it was called, was one. Trying to decide "how it started" is actually a little silly; victory has a thousand fathers, after all. But there is no doubt that Fairport Convention, Steeleye Span, Pentangle, the Incredible String Band, and their many fellows introduced generations to music of the tradition. And, they did it well. Not incidentally, they and their individual members often performed and recorded "early music" as well.
Ayreheart blends the "art" and "folk" traditions so organically, we are reminded how artificial such a separation actually is. "John Barleycorn," the witty view of brewing as an act of torture and abuse, is so perfect that Vaughan Williams himself wondered if it may have been created by "an antiquarian revivalist," who then saw it pass "into popular currency and become 'folklorised'." Many in the folk-rock movement recorded the song, most prominently the group Traffic in their album named for the song itself. Ronn McFarlane was true to his ancestry then, and has kept that flame alive in creative and newly-evolving ways with Ayreheart. Is it art music? Is it folk? Could it possibly matter less?
"Here is music that is born of what has come but leads us into where we can go: old forms born anew and ever fresh" - Robert Aubry Davis, creator, producer, and host of Millennium of Music.
Tracks
John Barleycorn
In a Garden So Green
Mr. Dowland's Midnight
Fortune My Foe
Lady Hunsdon's Puffe
Come Again, Sweet Love Doth Now Invite
‍Henry Martin
‍Lully lulle
Solus cum sola
Mr. George Whitehead His Almand
‍Twa Corbies
The Woods So Wild
‍Ddoi Di Dai
‍Nottamun Town